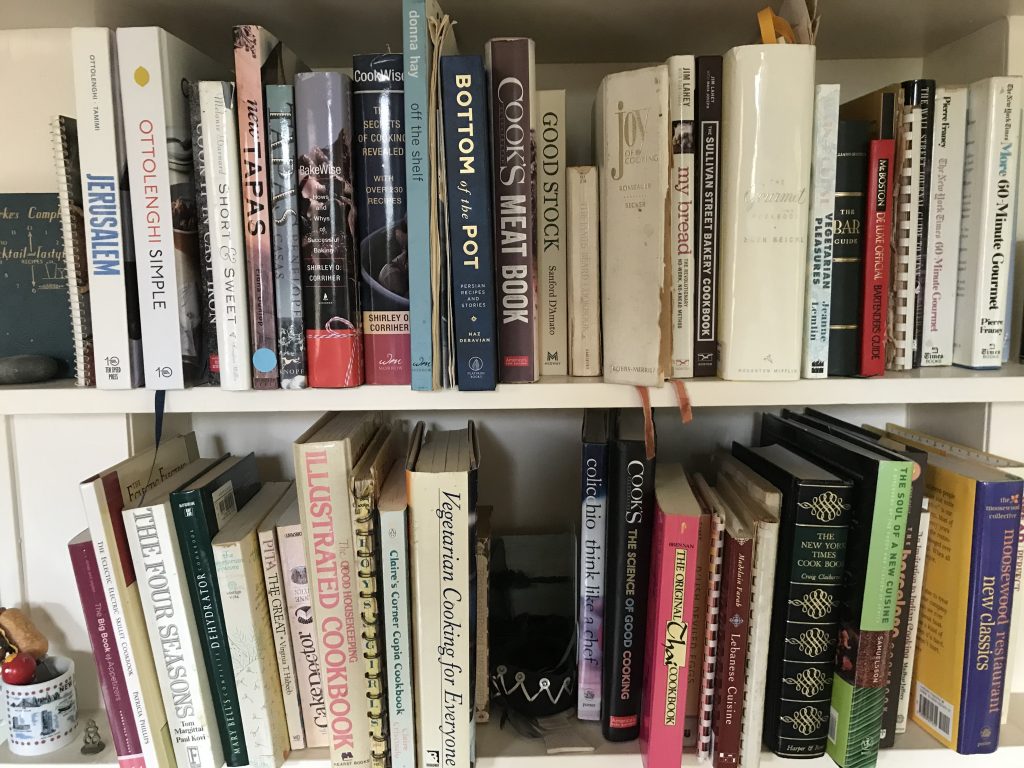 Because I am a devoted cook and eater, most of my books have really good food in them. Fortune's Daughters included several recipes. The Summer Sister featured food of my childhood, passed down from my Lebanese grandmother. The Winter Sister and The Spring Sister mostly had whatever I was eating at the time. First Wife, lots of food, but more whatever-luxury-I-could-imagine than anything I was actually eating, so none included from that book. I hope you enjoy the list!
Chicken braised with bacon and leeks
This recipe, which Olivia makes for Georgia, Stuart and Duncan in Chapter 13 of The Winter Sister, is adapted from one of Julia Child's episodes of The French Chef. It's delicious the first day, even better the second, therefore a perfect do-ahead meal. Julia served it with parsley chive biscuits—you can find her recipe online or make your own. Leftover chicken can be boned, shredded, stirred back into the sauce and ladled over pasta or rice..
4 slices smoked streaky bacon (that's regular bacon in the US)
2 medium onions, chopped
1 teaspoon dried rosemary
1 teaspoon fennel seeds
4 cloves of garlic, chopped
2 leeks, cleaned, light green and white parts thinly sliced
1 chicken, 1 ⅓ – 1 ¾ kilos (3 – 4 pounds), cut into serving pieces
1/4 cup flour
½ tsp each salt and pepper
350 ml (1 ½ cups) dry white wine
350 ml (1 ½ cups) chicken stock
2 tablespoons chopped parsley mixed with
½ teaspoon grated lemon zest
Brown bacon in a Dutch oven, drain on paper towels and crumble.
While bacon cooks, chop onions, garlic and slice leeks.
In bacon fat in the same pot, sauté onions over medium heat until softened and lightly browned.
While onions cook, place flour, salt and pepper in a small paper or plastic bag. Shake to blend. In two batches, add chicken pieces and shake until coated.
When onions are finished, remove from pot. Add more fat if necessary and sauté chicken in two batches until browned on both sides. (If the bits at the bottom of the pan start looking too brown, you might want to haul out another skillet for the second batch of chicken to avoid a burned taste. This also helps it go faster.)
Leave last batch of browned chicken in the Dutch oven and remove from heat.
Over the chicken in the pot, sprinkle half each of the following: bacon, onion, rosemary, fennel, garlic, leeks. Sprinkle with salt and pepper. Add the rest of the chicken and the remainder of those same ingredients.
Pour enough wine and stock to nearly cover chicken. (I used 1 ½ cups of each, but it depends on your pot.)
Cover pot, bring to boil over high heat, then lower temperature to a simmer and cook, covered for approximately 45 minutes. Be sure to check periodically since the temperature can climb. If serving the next day, cool for an hour with lid off, then refrigerate. Reheat gently.
Just before serving, sprinkle finished dish or individual plates with the parsley-zest combination
Clayton's Spiced Fruit Bars
From Chapter 6 in The Winter Sister, "when Clayton makes lunch for Eve. These are chewy, delicious and not too bad for you as cookies go. A perfect way to sneak fruit and whole-grain flour into sugar-craving kids.
Ingredients
1 1/4 cups (150 grams) all-purpose flour
½ cup (60 grams) whole wheat flour
1 teaspoon cinnamon
1 teaspoon ground ginger
½ teaspoon baking soda
½ teaspoon salt
1/2 teaspoon allspice
1/4 teaspoon ground cloves
½ cup (113 grams) butter softened
3/4 cup (148 grams) brown sugar
1 egg
½ cup molasses
1 c (125 grams) walnuts or pecans, chopped
6 oz (170 grams) chopped dried fruit (I use apricots, dried cranberries and raisins)
Preparation
Preheat oven to 350F/177C.
Grease a 10 x 15 x 1 inch baking pan.
Mix dry ingredients (flour through cloves) in a bowl.
Cream butter and sugar together in mixer until light and smooth. Add egg, beat to incorporate. Add molasses.
Add dry ingredients, mix slowly until very little dry flour remains, then add nuts and fruit. Mix only until evenly distributed. The dough will be stiff.
Drop dough by spoonfuls onto the prepared sheet. Oil your hands and press it gently into a smooth layer.
Bake 25 minutes. Let cool in pan. Cut into bars.
Kibbe
From The Summer Sister, Chapter 16, "kibbe—a mixture of ground lamb and cracked wheat flavored with onions and touches of cinnamon and allspice"
Kibbe comes in a variety of forms. This baked version is probably the easiest to make, unless you think stuffing tiny football shaped meatballs with a mixture of lamb and pine nuts, then frying them individually is easy. I save those for the professionals (they are also awesome).
Ingredients
Kibbe:
2 cups finest burghul wheat (labeled #1 on package)
1 onion, minced in food processor
1 tablespoon plus 1 teaspoon salt
1/2 tsp pepper
1/8 tsp cinnamon
1/8 tsp allspice
2 lbs (1 kilo) ground lamb, beef, or a combination
Filling:
1/4 cup pine nuts
2 T butter
1/2 lb (1/4 kilo) ground lamb, beef or a combination
1 medium onion, finely chopped
1/8 tsp cinnamon
1/8 tsp allspice
salt and pepper to taste
Finishing: 2 T melted butter
For Kibbe: Preheat oven to 375F (190C). Soak burghul in cold water to cover by an inch (3 cms) for ten minutes. While burghul soaks, mix together onions and seasonings, then mix those into the meat. Squeeze the burghul dry(ish) by handfuls and add, mixing well. Spread slightly less than half the meat mixture in a 9×9 (23×23 cms) baking dish, smoothing into an even layer. Dipping your hands in cold water can help, but it's just going to be messy.
For Filling: brown pine nuts in butter until golden. Add meat and brown, stirring and separating into as small pieces as possible (without driving yourself crazy). Add onions and seasonings and cook until onions are translucent. Spread this over first layer of meat.
Finishing: Top kibbe with second layer of meat mixture. This is done most easily in small handfuls worked together until the top is smooth. Score the layer diagonally to form diamonds of whatever size you wish. Spread melted butter over the top. Bake for 30-40 minutes. Serve warm or hot. Baked kibbe freezes and reheats beautifully. Plus it's really fun to say kibbe (KIB-bee) over and over until you start giggling.
Eggplant and Yoghurt
From The Summer Sister, Chapter 16, "a dish of grilled eggplant strips glistening with yogurt and garlic."
This incredibly simple dish has converted many people who thought they didn't like eggplant. I learned it from my American mom who learned it from her Lebanese mother-in-law, my grandmother, who lived with us for several years.
You can grill or pan-fry the eggplant, but most of the time I use the broiler because it's easier. The amounts are vague because that's how I learned it and because it's really pretty impossible to mess up. The only key is not being tentative cooking the eggplant. Let it get really dark brown and don't worry if some slices turn nearly black or get charred edges, it will only add more flavor.
Ingredients
1 eggplant, peeled and sliced lengthwise into half-inch slabs
Olive oil
1 small clove garlic minced, pressed or grated, more or less depending on your garlic tolerance
Yoghurt, preferably whole-milk, amount depends on how big your eggplant is. You want it enough to coat generously, but the vegetable shouldn't be swimming in it. Start with about 1/4 cup and see how it looks and tastes to you.
Salt to taste
Chopped parsley for garnish
Instructions
Preheat broiler. Cover baking sheet with foil. However you like to do it, brush eggplant cut surfaces with olive oil. I like to spread oil on the foil, arrange eggplant over it, then turn each piece to coat both sides. This doesn't have to be perfect, since eggplant soaks up oil like a sponge
Broil eggplant, in batches if necessary, turning once, until very dark brown on both sides. Be brave about this.
Stack slices on a plate as they are ready, then slice stacks into strips roughly ½ inch by 1 inch or whatever you like.
In a bowl, mix yoghurt, garlic and salt to taste (I know that's annoyingly vague. Start with 1/8 of a teaspoon and add more after the eggplant is in if it's not enough. I just dump some in there and hope for the best. So far so good!)
Add eggplant. Stir. That's it! You can garnish with parsley for a pretty presentation. Serve at room temperature plain or with pita for scooping up bites. This is a great accompaniment to roast lamb or lamb chops.